October 07, 2018
+ Γ' Λουκά. 3rd Sunday of Luke. Orthros 8:45 am, Divine Liturgy 10 am.
Altar Boys: Team Mark – Aris Roubanis C, Alex Roubanis C, Emilio Platis, Mateos Platis, John Confrey, Jackson Confrey, Dimitri Spiropoulos, Andreas Siouris, Alekos Siouris.
Sunday School
National Music Sunday
Bookstore open
Long Beach Marathon
Wednesday, 10/10
Panagia's Little Lambs 10:30 am – 11:30 am
Greek School 5:30 pm – 7:00 pm
Friday, 10/12
Futsal game 6:00 pm – 7:30 pm
Festival Appreciation Dinner 6:00 pm
Sunday, 10/14
+ Δ' Λουκά. 4th Sunday of Luke. Orthros 8:45 am, Divine Liturgy 10 am.
Altar Boys: Team Matthew Elias Eleopoulos C, Dennis Dalkos C, Panayotis Christidis, Alexander Eleopoulos, Nikolas Eleopoulos, Paul Dunbar, Andrew Girgis.
Sunday School
Philoptochos General Meeting & "Go Pink Sunday"
Bookstore open
Saints and Feasts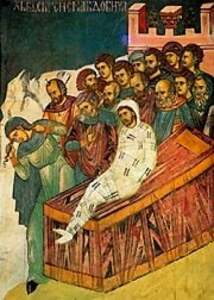 3rd Sunday of Luke
October 07
---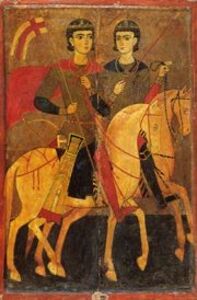 Sergius & Bacchus the Great Martyrs of Syria
October 07
These holy Martyrs were Romans of high rank in the service of the Emperor Maximian, to whom it was reported that they did not take part in the festivals of the idols. When he called them into his presence, they confessed their Faith in the one God. He had them arrayed in women's clothes and paraded through the streets in mockery. They were afterwards scourged, from which Saint Bacchus died. This was about the year 296. Saint Sergius was then taken to Resapha in Syria, where he was tortured and beheaded. His tomb in Resapha became a very famous shrine, to which pilgrims came from as far away as Western Europe; Resapha was later renamed Sergiopolis in his honour.
---
Polychronios the Martyr
October 07
---
Announcements
Churching
October 07, 2018
40 days churching of Ariana Marie Stavros, daughter of Andrea & Anber Stavros. Congratulations
Social Hour
October 07, 2018
Sponsored by Philoptochos.
Festival Appreciation Dinner
October 07, 2018
Dear Festival Volunteers, as a small token for all your hard work and dedication, the festival committee would like to invite you all to join us for dinner on Friday, October 12 in the hall at 6:00 pm. Thank you, Dino Syrengelas, Festival Chairman. 
Philoptochos
October 07, 2018
We will be having our General meeting and Go Pink Sunday on Sunday, October 14 following church services. Guest speaker Demetra Bastas Bratkic. Demetra will share information on "Women's Health Issues". You are all welcome to stay at the meeting and learn.
Alzheimer's Walk
October 07, 2018
Jerry Polychrones and Paraskevi June are putting a team together for the upcoming Alzheimer's Walk on Saturday, October 13th. It will be held at Rainbow Lagoon Park , 443 E. Shoreline Dr. Long Beach, 90802. Opening Ceremony: 9:30 am  Walk Begins at 10:00 am. Our Team is called Team Agape. All are welcome to walk with the team and/or donate. The link to join the team or donate to the team: http://act.alz.org/site/TR?fr_id=11062&pg=team&team_id=51635
This is a crippling disease which has impacted so many. Please join us! For more info, please contact Jerry or Paraskevi.
Upcoming Memorial Services
October 07, 2018
October 14 – Argyro Andrikos (40 days)
HOPE/JOY
October 07, 2018
This year the "Spooky Night" will be on Friday, Oct. 26. Looking forward to seeing you all there! This is a potluck so, please bring something to share (salads, simple pasta dishes, fruit, cheese and crackers etc.) TRUNK DECORATORS WANTED You must sign up for this and please be on time – the theme is yours to decide (however we ask you keep it church appropriate (please no gore/blood/guts etc.) Please RSVP to Yota Batsaras VIA TEXT 714.306.8082 or email: assumptionhopeandjpy@gmail.com
Greek School
October 07, 2018
Save the date! Sunday, October 28, 2018. "OXI DAY" celebration and Luncheon.
October's Prosforo
October 07, 2018
The prosforo for the month of October is donated by the families of Loui & Mary Stavros, Gus & Gene Makridis, John & Christina Gillotti and Christos & Toula Marinakis. Thank you. If you wish to donate the prosforo please call Voula at the church office to schedule the date.
Special Note
October 07, 2018
Please note that the services and events posted in the monthly news letter's calendar are subject to change; please refer to weekly bulletin for current schedule info.