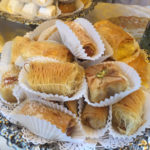 Pascha is approaching on April 8, a time of renewal, celebration and tradition: Tsourekia, Koulourakia, Kourambiedes, Baklava and traditional red eggs!
If you don't have enough time to bake any of these traditional treats, let the talented ladies of Philoptochos do it for you!
Pre-orders are now being accepted by contacting Voula Kitsios at the church office at 562.494.8929 or emailing Kathy Bastas at knbastas (at) aol.com.
Tsourekia $15.00 (available Palm Sunday on April 1, 2018)
Kouloutakia $12.00  per 1 dozen
Kourambiedes $12.00 per 1 dozen
Baklava $2.00 a piece
Red Eggs $6.00 per 1 dozen (orders only)
Remember to place your order soon, as we sell out quickly, and prepay to avoid long lines on April 1!